Interested in exploring your options but not ready to apply? Talk with a recruiter to learn more and sign up for alerts and be the first to know when new opportunities are posted.
Why do the best drivers in Alaska choose to work for Saltchuk companies?
Thrive with benefits:
There are perks of being in a larger family of companies. Enjoy generous benefits that include health insurance, retirement plans, and paid time off, allowing you to maintain a healthy work-life balance.
We put Safety First, Always:
We don't compromise when it comes to safety. From well-maintained equipment and diligent safety protocols, we prioritize your well-being and ensure you have the tools and support to drive with confidence.
The power of support:
Behind every happy driver is a strong back-office team. Count on our reliable and dedicated support staff to assist you, ensuring your journey is smooth and stress-free.
A clear path to success:
We offer fair compensation that reflects your skills and hard work. Say goodbye to unclear pay and hello to a competitive wage structure that rewards your expertise.
Ignite your potential:
Take advantage of our comprehensive training programs and tuition assistance, empowering you to reach new heights and unlock exciting opportunities.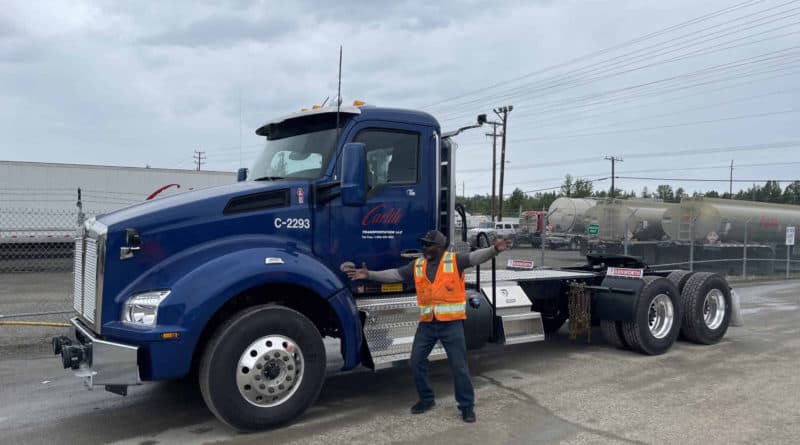 Our companies are dedicated to safety and customer service and invest in hard-working drivers who share our dedication.
Saltchuk companies are committed to helping company drivers advance in their careers and many cases, offer education stipends and training to obtain additional endorsements. Talk with a recruiter about opportunities for advancement within our family of companies.
What CDL endorsements are needed to drive in Alaska?
While opportunities exist at Saltchuk companies for truck drivers without commercial driver's licenses, the majority of positions require a CDL. While on the job, drivers can take advantage of training to earn more and advance by obtaining endorsements to operate specific vehicles or transport certain types of cargo.
In Alaska, our companies are hiring truck drivers in the following categories: